SS127
Designed for maximum stability without sacrificing paddling performance and angler-friendly features where you need them, you really have to paddle this craft to fully appreciate it.
The experience starts with the incredibly comfortable HiRise™ kayak seating system. The ultra high-back seat allows you to sit with your knees bent, taking pressure off of your lower back. If you want to really dig in and cover some distance, the SeatRack™, and foldable seat frame allow quick and quiet conversion to a lower position.
You'll notice right away that the SS127 sit-on-top fishing kayak is one of the most stable kayaks you've ever been in, which is surprising considering its 33.5" width. It's not 'kind of' stable. It's crazy stable. A few paddle strokes later will leave you wondering how a fishing kayak this stable and only 12 feet-7 inches long paddles and tracks so well. Stop paddling, and the next surprise is the smooth and sustained glide. The icing on the cake is that in spite of all of this, the SS127 turns really well. How did we get all of this performance into one hull? We tested, we measured, we refined, and we did it again – over and over and over until we got what we were looking for.
A great paddling sit-on-top or stand up kayak is nice, but a great paddling fishing kayak requires more than just paddling performance. It requires something we call "Fishability". It's feeling confident enough to move around, sit or even standing up to fish. Featuring YakAttack GearTrac it gives you the ability to have your gear out of the way but always within reach. It's the comfort and ergonomics that enable long days on the water. It's every piece, every part, and every function being carefully designed for versatility and with the kayak angler in mind. It's an overall kayak angling experience in which things work the way they should work. For us, the bar was set at Ultimate Fishability™.
Click into the tabs below for more information!
Shipping Options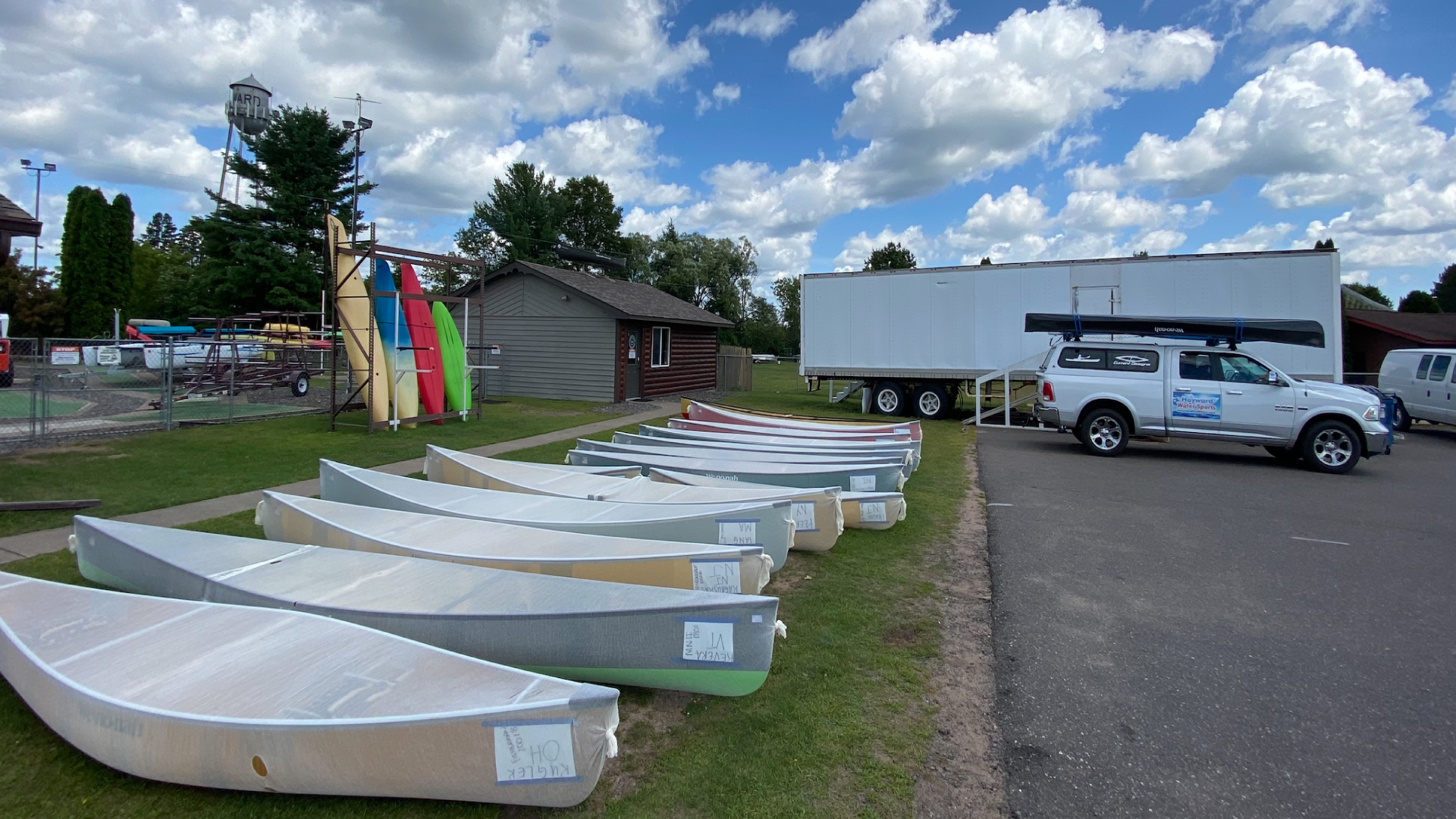 Terms - Read Before Visiting Us
Learn How to Choose a Fishing Kayak
https://paddling.com/learn/tips-for-choosing-a-fishing-kayak
Choosing a Fishing Kayak
Fishing kayaks come in all different shapes and sizes and it's important that you choose the right one. Because not only will it let you get the most enjoyment out of your time on the water, it'll make you safer on the water.

When choosing a fishing kayak, narrowing down your options is actually pretty easy, and it starts with identifying how and where you'll be using it:
• Will you be fishing small sheltered bodies of water like ponds and small lakes?
• Or will you be taking the kayak on big bodies of water that are exposed to wind and waves?
• What's the water temperature going to be like?
• And when it comes to performance, is it more important to have a kayak that's fast and responsive?
• Or are you more concerned about having a kayak that is stable and difficult to tip over?

With these questions in mind your first and biggest decision will be whether to get a sit-inside kayak or a sit-on-top kayak.

Sit-on-top kayaks are the most user friendly kayaks for fishing. They're very stable and easy to get in and out of, and there's no feeling of confinement on them. They're also self bailing, which means the water drains through small holes called scupper holes. They go right through the bottom of the kayak. This means you can't swamp a sit-on-top kayak. Another great safety feature is that sit-on-tops are much easier than sit-insides to get back on to from the water, if for some reason you fall off. The one downside to sit-on-top kayaks is that your feet and legs will get wet with the water dripping off the paddle. Sit-inside kayaks allow you to stay drier.

Sit-inside kayaks can be a good option for anglers who will be in cooler water, who want to stay dry while paddling, and who want a faster moving kayak. Just keep in mind that if you flip a sit-inside kayak, recovery is not necessarily a simple process because the kayak may swamp. As you're learning, try to stay in sheltered water or close to shore so you can swim in if you need to.

Once you've decided on whether to go for a sit-inside or sit-on-top kayak, you'll need to decide on a length for your fishing kayak. As a general rule, a long and narrow kayak will be faster, while a short and wide kayak will be slower but more stable. If you are only going to be fly fishing and sight casting, a short, wide, and stable boat is a great choice because standing is easy. The trade-off is that the kayak will be pretty slow and not ideal for paddling any real distance. On the flip side, if you want to cover more ground or maybe even troll offshore, you might want to choose a longer, narrower kayak that travels through the water more efficiently.

Once you decided on the style and size of kayak, there's one more key decision to make: Do you want a pedal kayak or do you want a paddle kayak? Traditionally kayaks are powered by paddles, but we also offer pedal kayaks. One of the benefits of pedal kayaks is that they leave your hands free for fishing. The downside is that they're less maneuverable and heavier. The pedal system also works less efficiently in really shallow water. If you do decide on a pedal kayak, something to keep in mind is that it's very important you have a good paddle on board as a backup.

Most of your decisions will now impact the comfort of your kayak, and relate to features of convenience for the type of kayak fishing you're going to do.



Learn about the different Kayak Layups
Learn More about Bonafide Kayaks
Bonafide Kayaks

We are Bonafide
Bonafide Kayaks
IT ALL STARTED WITH…
A CHALLENGE. A CHALLENGE TO DESIGN AND BUILD SOMETHING THAT DIDN'T SEEM POSSIBLE.
Bonafide Kayaks is fairly new with officially announcing the brand late in 2016. The team we have assembled is amongst the most talented and experienced in the paddle sports industry and we are setting our goals high. Our plans are big but our strategy is simple: We will do everything we can to produce the highest quality, most thoughtfully designed, and most carefully engineered fishing kayaks possible. Commitments to manufacturing in the USA, creating jobs, and unparalleled customer service are among our primary objectives.

At Bonafide we are listening, and we will put the end-user first in our designs. We will question conventional thinking, and we will bring forward concepts and products that answer those needs. What we're doing here at Bonafide is a scientific approach to development. We are allowing data and quantitative measurements to drive our designs and will provide kayaks that are precisely engineered to meet the needs of today's kayak anglers.

WHY WE DO IT
SIMPLY PUT, WE ARE A GROUP OF PEOPLE WHO LOVE WHAT WE DO EACH AND EVERY DAY.
We are paddlers, anglers, entrepreneurs, product designers, engineers, and individuals who enjoy a challenge and being a part of something bigger than ourselves while building a product that brings joy and excitement to the kayak fishing community. Our products aren't just kayaks they are a vessel used to escape, explore, and for anglers to follow their passion of paddling, fishing, and the outdoors. Our goal is to remain authentic, genuine, and real. Our commitment is to do things differently, in ways that will lead to some of the most innovative products the industry's ever seen.

Innovation starts where conventional options end. We intend to start this journey at the end of the beaten path and explore different ideas and techniques. In doing so, we will discover things that are not only beneficial to our company but to the industry as a whole."
US Coast Guard Lifejacket Regulations
Check out our Clearance and Specials
| Item # | Description | Retail | Cash Price | Savings | Saving % | Any Card Price |
| --- | --- | --- | --- | --- | --- | --- |
| 425 | Bark Dominator 14' - Pro Elite Lay-Up | 2,399 | 1,349 | 1,050 | 44% | 1,423 |
| 2279 | Pau Hana Big EZ Angler | 1,399 | 1,099 | 300 | 21% | 1,159 |
| 2290 | C4 V1 Ocean Race with Bag - Awesome Board! - Used | 2,800 | 1,199 | 1,601 | 57% | 1,265 |
| 2289 | M&M 12.6 with Bag - Used - 21 lbs! Nothing Lighter! | 2,800 | 1,500 | 1,300 | 46% | 1,583 |
| Item # | Description | Retail | Cash Price | Savings | Saving % | Any Card Price |
| --- | --- | --- | --- | --- | --- | --- |
| 425 | Bark Dominator 14' - Pro Elite Lay-Up | 2,399 | 1,349 | 1,050 | 44% | 1,423 |
| 2279 | Pau Hana Big EZ Angler | 1,399 | 1,099 | 300 | 21% | 1,159 |
| 2290 | C4 V1 Ocean Race with Bag - Awesome Board! - Used | 2,800 | 1,199 | 1,601 | 57% | 1,265 |
| 2289 | M&M 12.6 with Bag - Used - 21 lbs! Nothing Lighter! | 2,800 | 1,500 | 1,300 | 46% | 1,583 |
DEALS ON PADDLING GEAR AND ACCESSORIES
Check out our Current Sales Promotions