Take the party on the water with the Hobie Getaway. When the agenda involves sailing with friends and family, the Hobie Getaway is a sure-fire ticket to multihull fun.
Stir in the boat's performance-minded symmetrically shaped hulls, its efficient, mainsail-driven sailplan and its roller-furling jib and you quickly discover a sailing pedigree that leaves "party boats" stalled out. With the Getaway, there's no worry about impromptu raft-ups, beaching or docking; its impact-resistant, rotomolded polyethylene hull provides years' worth of family fun. But most impressive is the Getaway's awesome value—expect great times for a modest price tag.

Click into the tabs below for more information!
Shipping Options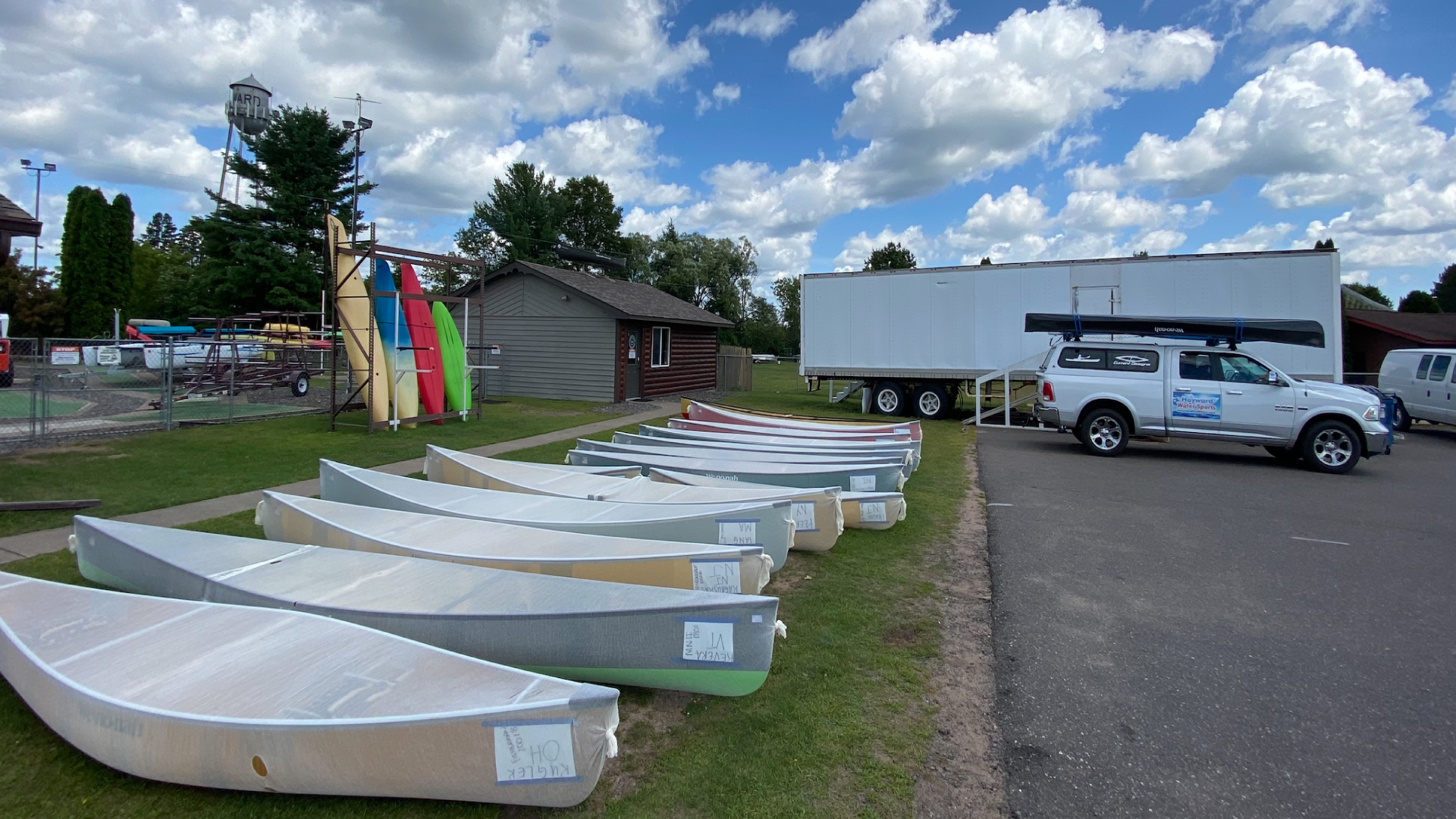 Terms - Read Before Visiting Us
Learn More about Hobie Cat
About Hobie


Impressive Collection of Watercraft
US Coast Guard Lifejacket Regulations
Check out our Clearance and Specials
| Item # | Description | Retail | Cash Price | Savings | Saving % | Any Card Price |
| --- | --- | --- | --- | --- | --- | --- |
| 425 | Bark Dominator 14' - Pro Elite Lay-Up | 2,399 | 1,349 | 1,050 | 44% | 1,423 |
| 2279 | Pau Hana Big EZ Angler | 1,399 | 1,099 | 300 | 21% | 1,159 |
| 2289 | M&M 12.6 with Bag - Used - 21 lbs! Nothing Lighter! | 2,800 | 1,500 | 1,300 | 46% | 1,583 |
| 536 | NRS Earl 4 - Used Rental SUP + used paddle | 899 | 149 | 750 | 83% | 155 |
| 535 | NRS Earl 6 - Used Rental SUP + used paddle | 899 | 149 | 750 | 83% | 155 |
| Item # | Description | Retail | Cash Price | Savings | Saving % | Any Card Price |
| --- | --- | --- | --- | --- | --- | --- |
| 425 | Bark Dominator 14' - Pro Elite Lay-Up | 2,399 | 1,349 | 1,050 | 44% | 1,423 |
| 2279 | Pau Hana Big EZ Angler | 1,399 | 1,099 | 300 | 21% | 1,159 |
| 2289 | M&M 12.6 with Bag - Used - 21 lbs! Nothing Lighter! | 2,800 | 1,500 | 1,300 | 46% | 1,583 |
| 536 | NRS Earl 4 - Used Rental SUP + used paddle | 899 | 149 | 750 | 83% | 155 |
| 535 | NRS Earl 6 - Used Rental SUP + used paddle | 899 | 149 | 750 | 83% | 155 |
DEALS ON PADDLING GEAR AND ACCESSORIES
Check out our Current Sales Promotions