IGO INFLATABLE
LIGHT, AWESOME, AND FUN
Our most popular inflatable paddle board range, just jump on board and start paddling.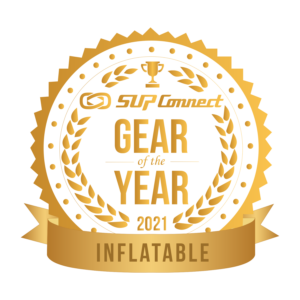 Best Inflatable board of the year awarded by SUPConnect Magazine
Experience the Starboard difference even before entering the water, these lightweight paddle boards feature the trademark Starboard shoulder carry strap which allows you to effortlessly carry it to the water, with both hands free! Before you get on board, you can secure yourself with the included flat lightweight leash, paddle safely and comfortably knowing your board is a life raft. The Bungee straps at the nose are good for storing all sort of dry bags or gear on your next big SUP adventure.
The iGO boards are known for being steady, having good speed and being super easy to turn while stepping back onto the wide tail area. The board's straight outline helps to paddle straight and you can paddle more strokes on one side before you need to swap over, which also helps comfort and even increases the overall speed. This is the perfect paddle board range option for first-time paddlers, families with pets and anyone who wants less fuss and more enjoyable water time anywhere.
WHAT DOES YOUR BEST ALL-ROUND PADDLE BOARD LOOK LIKE?
WELDED RAIL TECHNOLOGY
            Every Starboard inflatable paddle board features welded rails.
The Welded Rail Technology creates a complete airtight, mechanically bonded seam without the risk of glue weakening over time. This makes Starboard inflatable paddle boards stronger and longer lasting.
THE OUTLINE SHAPE
It has a straight outline and a narrow mid-section, so you can keep the paddle closer to the board. This makes you feel more comfortable and stable while you also track better and glide faster.
Its wide tail lets you step back and make fast and fun turns with full control.
Longer boards make you glide better, shorter boards are easier to turn and wider boards are more stable.
2-IN-1 SHOULDER CARRY STRAP & PADDLE HOLDER
Velcro loops to attach your paddle.
Easier to carry as the board simply hangs effortlessly on the shoulder and frees up your hand to multi-task, hold your coffee, or phone.
When not in use, the strap sits flat on the board so it doesn't drag in the water.
The Zen construction only comes with 2 D-rings. The strap needs to be purchased separately aftermarket.
BUNGEE TIE DOWN
A bungee tie down in front of the board, for storing gear and supplies.
The bungee is attached with 4 D-rings which can be used to clip on your bags and gear.
FLAT CARRY HANDLE
Is made discrete for extra comfort when doing Yoga, yet still easy to carry. And it can be comfortably stepped on. (Only on Tikhine and Zen models)
2 TIKHINE ART OPTIONS
ART YOU CAN RIDE
Built in Deluxe Single Chamber construction.
2 special design options available: Tikhine Sun, Tikhine Wave
Designed by world's SUP champion and artist, Sonni Honscheid.
(Available on 11'2"x31+" and 10'8"x33" models)
MATCHING TIKHINE PADDLES
Get the complete Tikhine set with the matching Tikhine paddles.
Coming in the Tiki Tech paddle construction.
RE-COVER BAG
LIGHT, STRONG, LARGE
Is designed to minimize weight, yet maximize comfort and strength.
Roller wheels available on every bag make it more comfortable for a long walk.
Hiking strap is ergonomically curved to ensure good stability on the shoulders.
FREE LIGHTWEIGHT LEASH
DELUXE CONSTRUCTION
THE MOST ADVANCED BUILD METHOD
Built with Woven Dropstitch Technology at its core makes the Deluxe Construction a solid winner at a lightweight.
The Galvanized 2000D rails combined with the breakthrough Welded Rail Technology sets the Deluxe Construction inflatable paddleboards further apart from the rest.
Single fin option boards come with an ultra-strong box and toolless fin. To finish it all off, Deluxe Construction inflatable paddle boards come with the Tiki Pump and an extra-strong Re-Cover Board Bag with roller wheels and carry straps, made from 18 – 23 recycled plastic bottles.
STIFFER, LIGHTER, MORE RESPONSIVE
The Fusion Woven dropstitch makes the Deluxe boards extra strong and stiff.
The Heat Welded rails create a complete airtight, mechanically bonded seam without the risk of glue weakening over time. Making the board stronger and last longer.
Galvanized 2000D rails increase strength and stiffness.
The Double Chamber (optional) brings the inflatable boards one step closer to a hard board feeling. The Double Chamber stiffens the board significantly, thanks to the double side walls around the second chamber. This chamber also offers extra safety flotation for any emergencies
Click into the tabs below for more information!
Shipping Options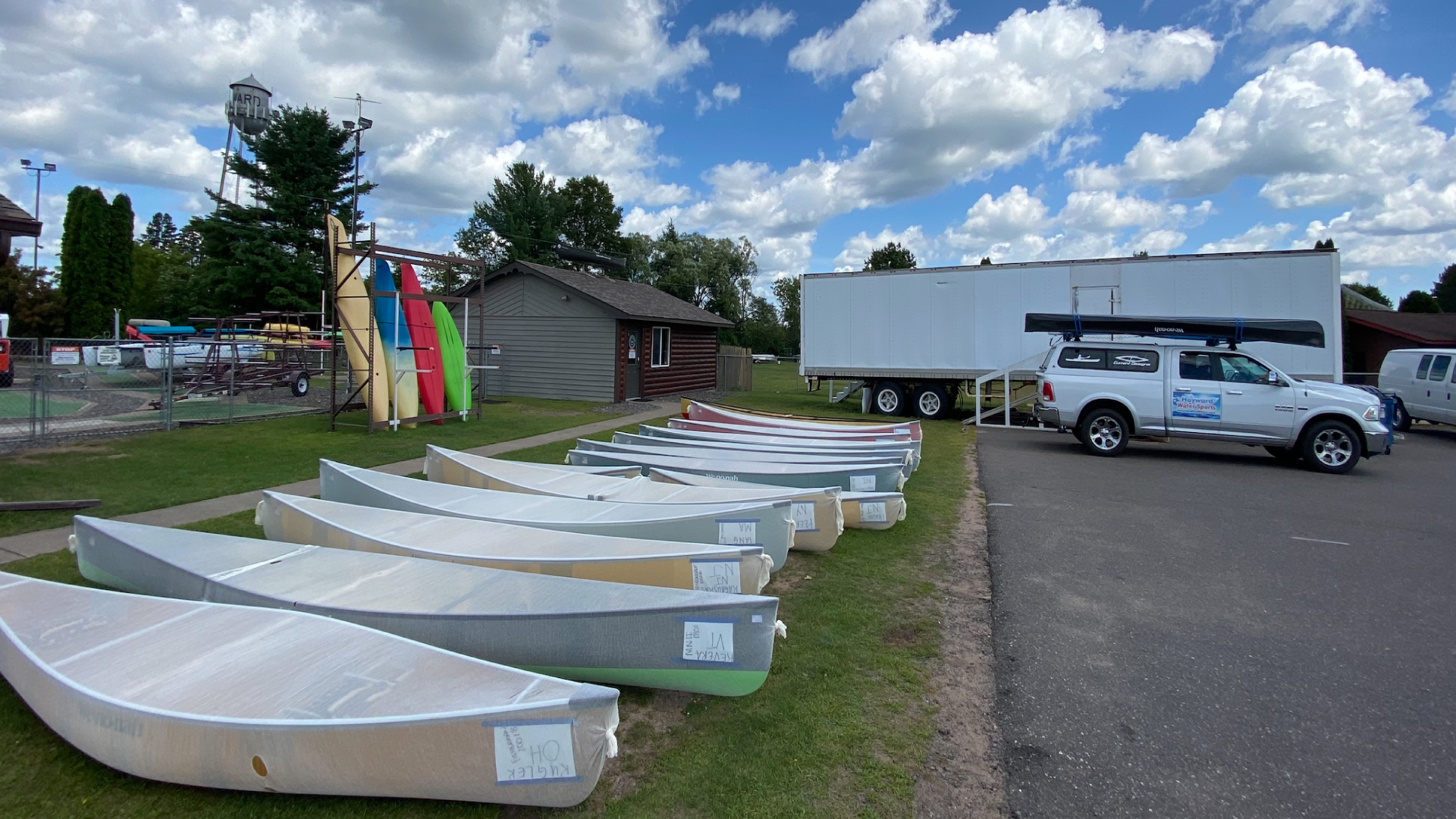 Terms - Read Before Visiting Us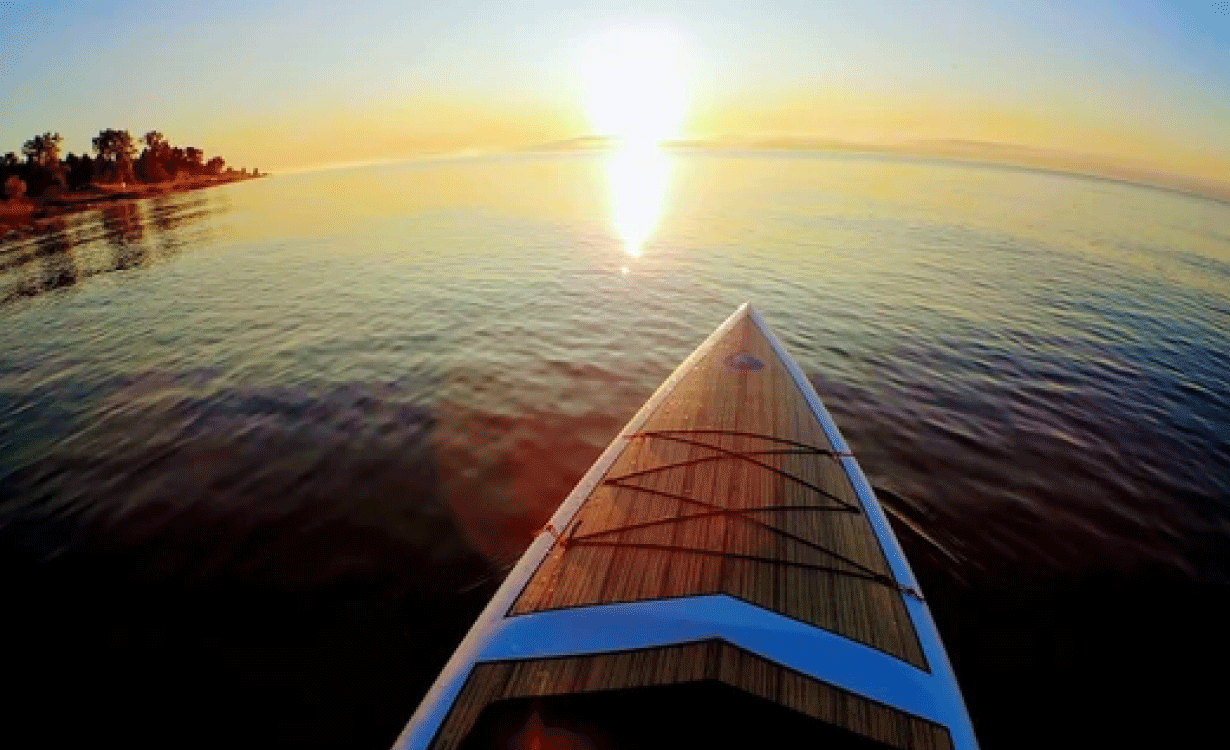 Learn How to Choose a Paddle Board
How to Choose a Stand Up Paddle Board
First, try to narrow your search down to a category based upon your priorities for paddling.
How do you plan on using the SUP?
Recreational, Fitness/Distance, Fitness/Yoga, Fishing
Who will be using the SUP?
Single User, Multiple users, Youth/"leave at the lake" Use?
Where will the board be used?
Lake, River, "taking it traveling"?
Where will the board be stored?
Indoor Rack, Outdoor Rack, "I have no room to store a board?"
Stand Up Paddle Board (SUP) Categories
All Around / Recreational / Planing Boards
All-Around boards offer a traditional planing bow, rounded and are generally 10'-12' in length and 30"-36" in width. These boards are great for beginners, but also great for any paddler who is not looking for paddling long distances or racing environments. Planing boards offer stability for yoga or fishing.
Touring / Race / Distance / Displacement Boards
Touring boards have a displacement bow, pointed to displace water as you paddle. Displacement boards are generally 12'-14' in length and generally narrower than a planing board. The displacement bow is more efficient and requires less effort to paddle longer distances. There are also hybrid displacement boards which are wider and thicker that provide more stability in a displacement hull.
Hard Boards versus Inflatable Boards
Plastic (rotomolded) Boards
These boards have a durable exterior, least expensive but very heavy. These boards are great for when multiple users will be using the board and likely to be dragged or dropped. These boards do not have a center core, and over time may bow in the center or become water-logged.
Hard Boards - Most common boards
There are various Hard Board construction so weights may vary also. Construction may include Fiberglass/Epoxy, Graphite and Carbon. These boards are great for individual users who will be able to control the usage of the board.
Inflatable Boards
There are various Inflatable Board constructions, but weights do not vary as much. These are very popular boards. They are quite durable, great for families and guests, traveling and storage is not really a factor. These boards generally come with a storage bag and pump.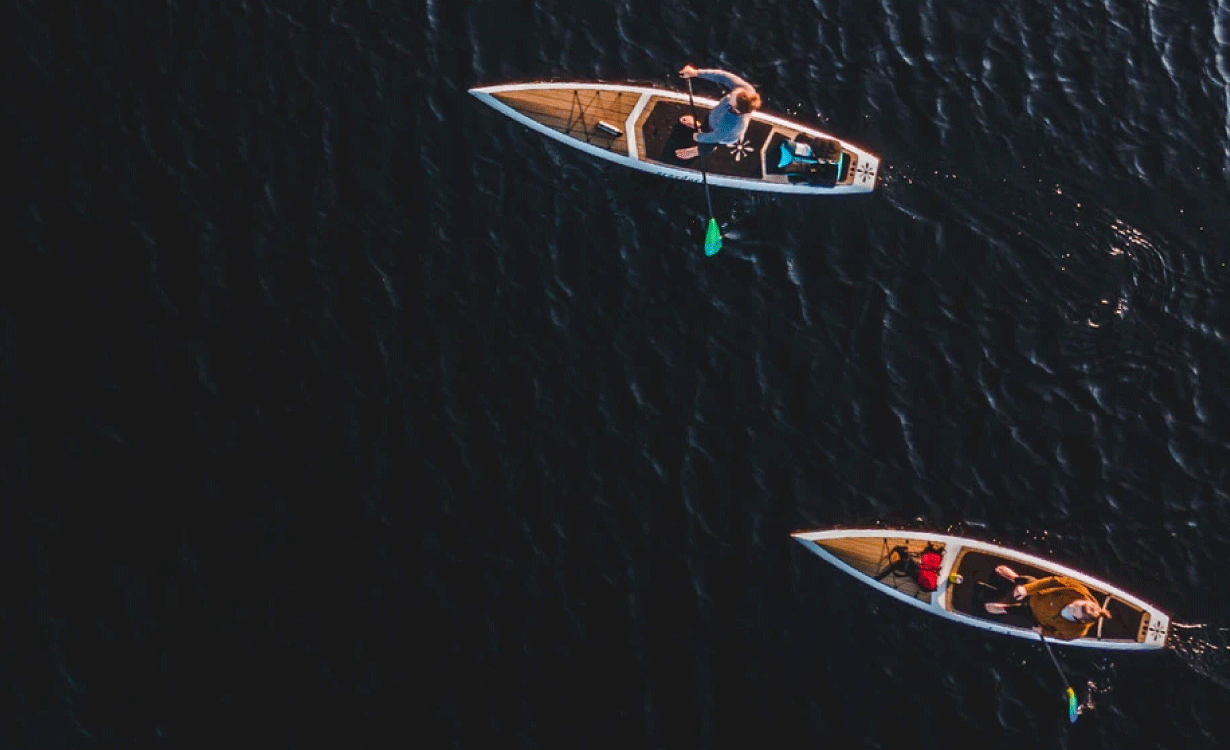 Learn about the different Paddle Board Layups
Starboard Inflatable Board Constructions
Deluxe Construction
, https://haywardoutfitters.com/wp-content/uploads/key-features.jpg, key features
Zen Construction
, , https://haywardoutfitters.com/wp-content/uploads/Starboard-SUP-Stand-Up-Paddling-zen-inflatable-paddle-boards-deluxe-construction-2021-inflatable-paddle-board-construction.jpg, Starboard-SUP-Stand-Up-Paddling-zen-inflatable-paddle-boards-deluxe-construction-2021-inflatable-paddle-board-construction
KEY FEATURES

Heat Welded Rails
Stronger, Last longer, better for the environment
Push-Push System for Inflation/Deflation
3K Carbon Fiber Band
For compression and additional stiffness
Optional Rounded Second Chamber
Added Safety and strength with a better pressure distribution
2000D Galvanized Compression Rails
Fusion Woven Dropstitch
Extra strong and stiff
Double I-Beam Stringer
Ultra stiff and strong
Double Rail Band
https://haywardoutfitters.com/wp-content/uploads/key-features-300x152.jpg, https://haywardoutfitters.com/wp-content/uploads/key-features.jpg, key features
KEY FEATURES

Heat Welded Rails
Stronger, Last longer, better for the environment
Push-Push System for Inflation/Deflation
Optional Rounded Second Chamber
Added Safety and strength with a better pressure distribution
2000D Galvanized Compression Rails
Exclusive Single Layer Linear Dropstitch
Increases stiffness
Double I-Beam Stringer
Ultra stiff and strong
Double Rail Band
, https://haywardoutfitters.com/wp-content/uploads/Starboard-SUP-Stand-Up-Paddling-zen-inflatable-paddle-boards-deluxe-construction-2021-inflatable-paddle-board-construction-300x152.jpg, https://haywardoutfitters.com/wp-content/uploads/Starboard-SUP-Stand-Up-Paddling-zen-inflatable-paddle-boards-deluxe-construction-2021-inflatable-paddle-board-construction.jpg, Starboard-SUP-Stand-Up-Paddling-zen-inflatable-paddle-boards-deluxe-construction-2021-inflatable-paddle-board-construction
FUSION WOVEN DROPSTITCH
EXTRA LIGHT, STRONG, & STIFF
• The new woven dropstitch makes the DELUXE a solid winner at lightweight.
• Top and bottom layers are fused in a single, glue-less process.
• Woven fabric weights less because it uses less material than conventional dropstitches.
• And because it stretches less, it holds more tension and keeps the shape of the board.
• What does it mean for you? A stiffer and lighter board with a better reflex sensation.
• Not available on River board. River models feature Linear double layer technology. Bombproof double layer skin merged with extra stiff Linear drop stitch, built for a rocky ride.
, https://haywardoutfitters.com/wp-content/uploads/women-dropstitch-300x200.jpg, https://haywardoutfitters.com/wp-content/uploads/women-dropstitch.jpg, women dropstitch
LINEAR DROPSTITCH
MORE RESPONSIVE, STIFFER, & LIGHTER. FEEL IT!
Linear alignment of space yarns, oriented only in warp direction ( the direction of the board's length), maximizing the stiffness and response.
Linear dropstich also secures the board's shape better over time compared to standard knitted dropstitch.
Linear dropstich with single layer coating is the lightest offering in our collection.
What does it mean for you? An ultra light board with the best stiffness that single layer technology can offer, you can feel the acceleration.
, https://haywardoutfitters.com/wp-content/uploads/Starboard-SUP-Stand-Up-Paddling-zen-inflatable-paddle-boards-construction-2021-zen-inflatable-paddle-board-linear-dropstitch-300x200.jpg, https://haywardoutfitters.com/wp-content/uploads/Starboard-SUP-Stand-Up-Paddling-zen-inflatable-paddle-boards-construction-2021-zen-inflatable-paddle-board-linear-dropstitch.jpg, Starboard-SUP-Stand-Up-Paddling-zen-inflatable-paddle-boards-construction-2021-zen-inflatable-paddle-board-linear-dropstitch
WELDED RAIL TECHNOLOGY
BONDED FOR LIFE
• Welded Rail Technology turns 2 pieces of material into a single solid unit, resulting in an extra-strong mechanical bond.
• A mechanical bond is stronger, lasts longer and is better for the environment.
• Welded Rail Technology creates a complete airtight seam without the risk of glue weakening over time.
, https://haywardoutfitters.com/wp-content/uploads/welded-rail-300x200.jpg, https://haywardoutfitters.com/wp-content/uploads/welded-rail.jpg, welded rail
2000D GALVANIZED STRINGER
Galvanized 2000 D rails increase the strength of the board, together with the 3K compression bands. (3K bands only available with Double Chamber option)


, https://haywardoutfitters.com/wp-content/uploads/welded-rail-2-300x200.jpg, https://haywardoutfitters.com/wp-content/uploads/welded-rail-2.jpg, welded rail 2
OPTIONAL DOUBLE CHAMBER TECHNOLOGY
SAFER AND STIFFER. FEEL IT!

DOUBLE I-BEAM STRINGER – ULTRA STIFF
The innovative chamber doubles the sidewalls and acts like rollable I-beams. Starting just behind the standing area and continuing towards the front, the chamber is placed in the most critical area for flex and reduces deflection by 1.8 cm. The feeling of paddling with the stiff double I-beam stringer is getting very similar to a hard board, propelling inflatable technology one step closer to a "hard board" feeling. A must have for riders over 85 kg.

EXTRA FLOATATION – ULTRA STIFF
The chamber offers up to 42 liters of safety floatation, with 14 liters even in the smallest boards and require only 10 PSI. Starboard pioneered Double Chamber Construction in the 2013 Ocean Rescue board. Future coast guard regulations will possibly request this safety arrangement for inflatable board use in open waters.
, https://haywardoutfitters.com/wp-content/uploads/Starboard-SUP-Stand-Up-Paddling-zen-inflatable-paddle-boards-deluxe-construction-2021-inflatable-paddle-board-construction-300x152.jpg, https://haywardoutfitters.com/wp-content/uploads/Starboard-SUP-Stand-Up-Paddling-zen-inflatable-paddle-boards-deluxe-construction-2021-inflatable-paddle-board-construction.jpg, Starboard-SUP-Stand-Up-Paddling-zen-inflatable-paddle-boards-deluxe-construction-2021-inflatable-paddle-board-construction
2in1 SHOULDER CARRY STRAP
AND PADDLE HOLDER
• Velcro loops to attach your paddle.
• Easier to carry as the board simply hangs effortlessly on the shoulder and frees up your hand to multi-task, hold your coffee, or phone.
• When not in use, the strap sits flat on the board so it doesn't drag in the water.
• Not available on All Star, Surf, and SUP-Windsurfing
, https://haywardoutfitters.com/wp-content/uploads/2-in-1-shoulder-strap-300x200.jpg, https://haywardoutfitters.com/wp-content/uploads/2-in-1-shoulder-strap.jpg, 2 in 1 shoulder strap
NEW 2 D-RINGS FOR SHOULDER CARRY STRAP 2-D-rings available on the board to attach the shoulder carry strap. The strap needs to be purchased separately after-market The strap makes it easier to carry as the board simply hangs effortlessly on the shoulder and frees up your hand to multi-task, hold your coffee, or phone. Available on iGO and Touring Inflatable
, https://haywardoutfitters.com/wp-content/uploads/Starboard-SUP-Stand-Up-Paddling-zen-inflatable-paddle-boards-construction-2021-zen-inflatable-paddle-board-2-D-ring-for-shoulder-strap-300x200.jpg, https://haywardoutfitters.com/wp-content/uploads/Starboard-SUP-Stand-Up-Paddling-zen-inflatable-paddle-boards-construction-2021-zen-inflatable-paddle-board-2-D-ring-for-shoulder-strap.jpg, Starboard-SUP-Stand-Up-Paddling-zen-inflatable-paddle-boards-construction-2021-zen-inflatable-paddle-board-2-D-ring-for-shoulder-strap
EXTRA STRONG FIN BOX
Single fin option boards come with an ultra strong and reinforced fin box and a tool-less fin. It is the top of the range in durability and function.
, https://haywardoutfitters.com/wp-content/uploads/starboard-extra-strong-fin-box-300x200.jpg, https://haywardoutfitters.com/wp-content/uploads/starboard-extra-strong-fin-box.jpg, starboard extra strong fin box
ZEN FIN An ergonomically designed screw that can easily be adjusted using the fingers, allows the fin setup to be done without any tool.
, https://haywardoutfitters.com/wp-content/uploads/Starboard-SUP-Stand-Up-Paddleboard-inflatable-Key-Features-2020_Zenlite_Toolless-Fin-300x206.jpg, https://haywardoutfitters.com/wp-content/uploads/Starboard-SUP-Stand-Up-Paddleboard-inflatable-Key-Features-2020_Zenlite_Toolless-Fin.jpg, Starboard-SUP-Stand-Up-Paddleboard-inflatable-Key-Features-2020_Zenlite_Toolless-Fin
RE-COVER BAG
LIGHT, STRONG, LARGE
• Is designed to minimize weight, yet maximize comfort and strength.
• Roller wheels available on every bag make it more comfortable for a long walk.
• Hiking strap is ergonomically curved to ensure good stability on the shoulders.
, https://haywardoutfitters.com/wp-content/uploads/starboard-recover-bag-300x200.jpg, https://haywardoutfitters.com/wp-content/uploads/starboard-recover-bag.jpg, starboard recover bag
TIKI PUMP
FAST, EASY, AND COMFORTABLE
• Fixed hose and manometer position when inflating.
• 10% more efficient thanks to the redesigned piston and outside tube for the air outlet. Plus, double and single action pumping modes and wider removable foot base increases stability when pumping.
• The base and handle are made from upcycled fishing nets.
• (Starship range doesn't come with pump)
, https://haywardoutfitters.com/wp-content/uploads/starboard-tiki-pump-300x206.jpg, https://haywardoutfitters.com/wp-content/uploads/starboard-tiki-pump.jpg, starboard tiki pump
V8 DOUBLE ACTION PUMP The hand pump with fixed base completes the picture of the price friendly inflatable paddle board. Works both in single and double action. Can be used to inflate and deflate the board.
, https://haywardoutfitters.com/wp-content/uploads/Starboard-SUP-Stand-Up-Paddleboard-inflatable-Key-Features-2020_Zenlite_Pump-300x206.jpg, https://haywardoutfitters.com/wp-content/uploads/Starboard-SUP-Stand-Up-Paddleboard-inflatable-Key-Features-2020_Zenlite_Pump.jpg, Starboard-SUP-Stand-Up-Paddleboard-inflatable-Key-Features-2020_Zenlite_Pump
FREE LIGHTWEIGHT LEASH
• At only 70g, the leash is incredibly light.
• Soft cushioning means it will flatten when stood on.
• Easy to attach to the leash ring without needing any excess rope loop.
• (River, Surf and team range do not come with leash)
, https://haywardoutfitters.com/wp-content/uploads/starboard-leash-300x200.jpg, https://haywardoutfitters.com/wp-content/uploads/starboard-leash.jpg, starboard leash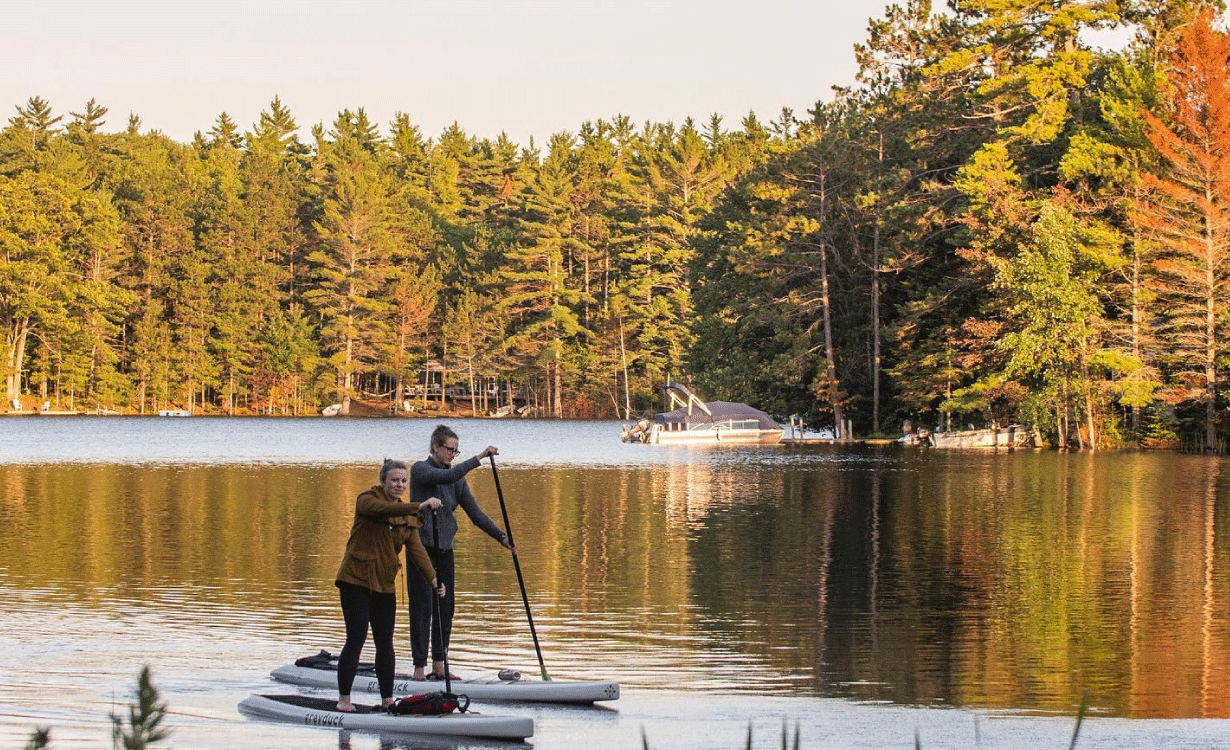 Benefits of Stand Up Paddle Boarding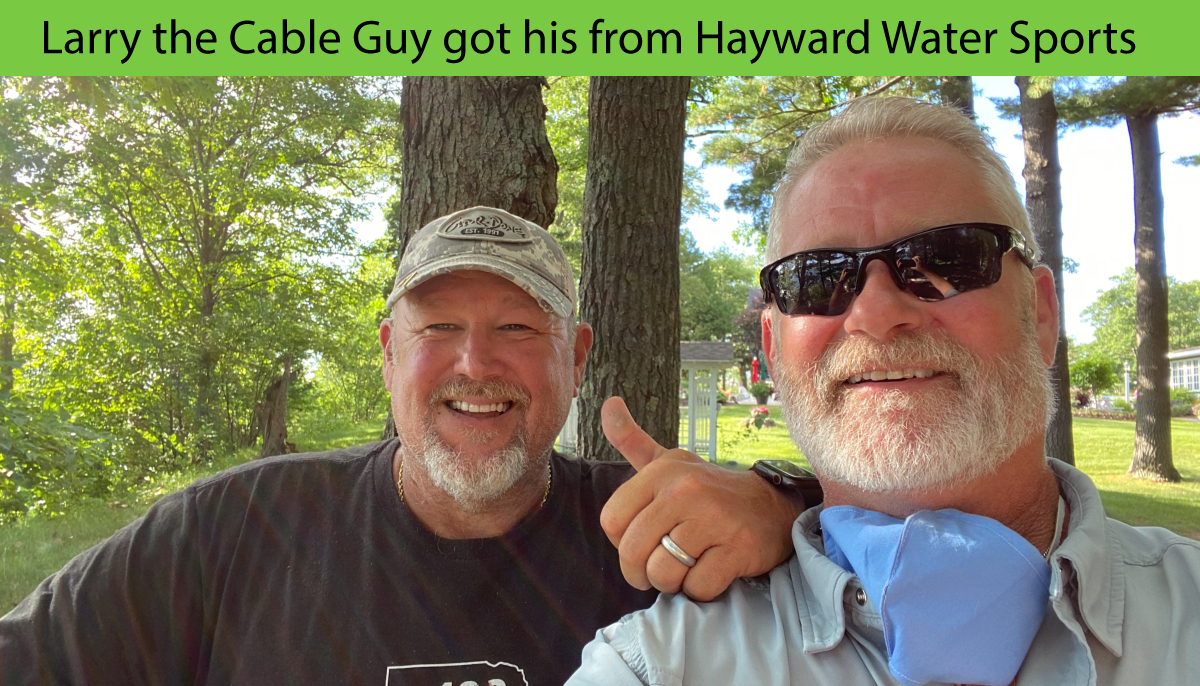 Discover Starboard Stand Up Paddle Boards
Starboard SUP
Certified B-Corp Company
Starboard SUP
Vision Starboard was founded in 1994 by Svein Rasmussen. It all came from the vision of bringing innovation, quality and inspiration to the world of wind and water. Together with riders and partners around the world, Starboard and Tiki strive to be the best in the world and FOR the world.

CERTIFIED B-CORP COMPANY

Since 2017 Starboard has grown their focus on social and environmental projects to protect the oceans that we love to enjoy and immerse ourselves in. Over this time we've planted 1,000,000 mangrove trees with the Worldview International Foundation, Myanmar.

We also calculated and released our first carbon footprint report, and with the help of Plastic Disclosure Project we established the first-ever Plastic Offset Program. Starboard was even invited to participate in the first UN conference in New York and we were over the moon to participate! Also, we are consistently fighting to bring more plastic legislations into place which we can then add to our world plastic legislation map! The list goes on…

In 2018 we became a certified B-Corp company as we met the rigorous standards set out by B-Corp. These strict standards allow us to ensure we are creating a positive impact for our employees, the community around us and of course, the environment. Overall, allowing us to use business as a force for good.

B-Corp companies are something you can be searching for when you are out and about buying your own items, whether its a cup of coffee, a new t-shirt or a mortgage, take a look for the B-Corp standard stamp. Having the B-Corp standard as part of your business is like having a Fairtrade stamp on food and clothing items. When you purchase a product from a B-Corp of Fairtrade company, you are choosing to support the community of business who care about their environmental and social standards. Resulting in a positive impact on the industry, driving positive change and positive impacts to not only people's lives but also the environment.

More About Starboard Blue B-Corp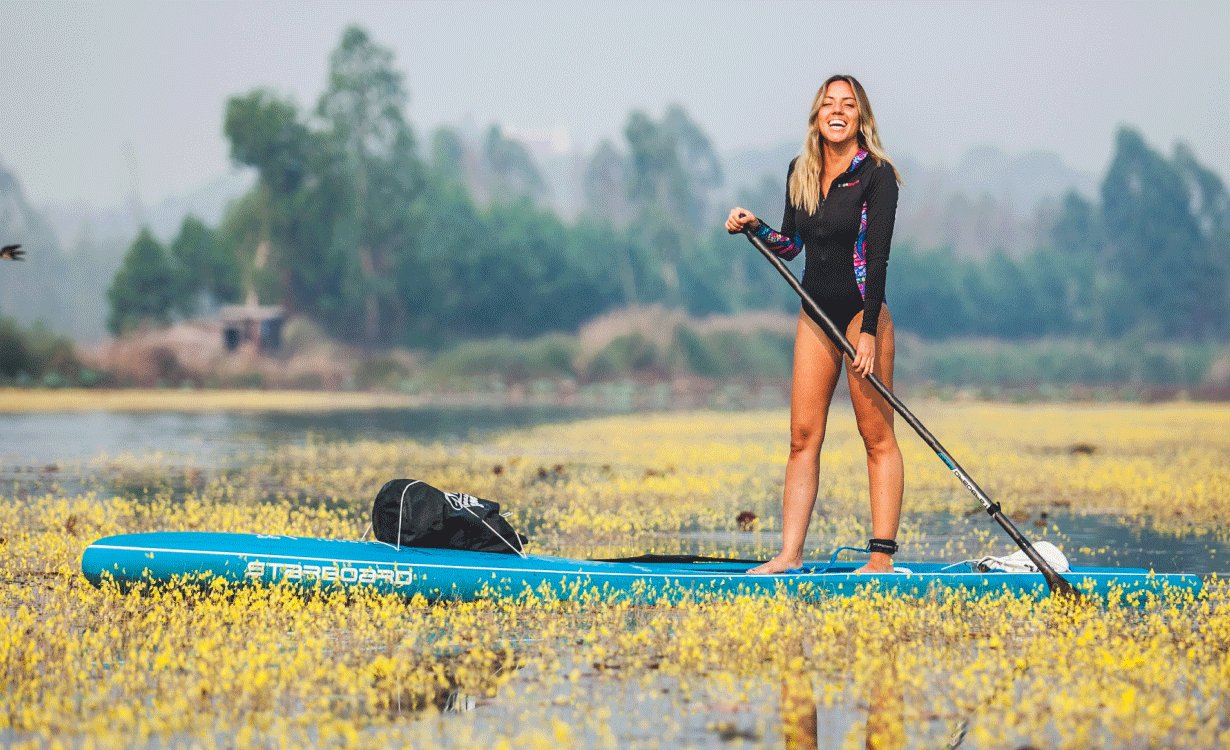 Starboard Warranty Statement
Check out our Clearance and Specials
| Item # | Description | Retail | Cash Price | Savings | Saving % | Any Card Price |
| --- | --- | --- | --- | --- | --- | --- |
| 283 | Current Designs Freedom - Demo | 3,499 | 2,250 | 1,249 | 36% | 2,374 |
| 2316 | Wilderness Systems Recon 120 HD - Scratch& Dent | $2,819 | $1,995 | $824 | 29% | 2,055 |
| 2448 | Bonafinde P127 Fishing Pedal Kayak - 2022 | 3,099 | 2,649 | 450 | 15% | 2,728 |
| Scroll Down for More Deals! | | | | | | |
| Item # | Description | Retail | Cash Price | Savings | Saving % | Any Card Price |
| --- | --- | --- | --- | --- | --- | --- |
| 425 | Bark Dominator 14' - Pro Elite Lay-Up | 2,399 | 1,349 | 1,050 | 44% | 1,423 |
| 2279 | Pau Hana Big EZ Angler | 1,399 | 1,099 | 300 | 21% | 1,159 |
| 2290 | C4 V1 Ocean Race with Bag - Awesome Board! - Used | 2,800 | 1,199 | 1,601 | 57% | 1,265 |
| 2289 | M&M 12.6 with Bag - Used - 21 lbs! Nothing Lighter! | 2,800 | 1,500 | 1,300 | 46% | 1,583 |
| 536 | NRS Earl 4 - Used Rental SUP + used paddle | 899 | 149 | 750 | 83% | 155 |
| 535 | NRS Earl 6 - Used Rental SUP + used paddle | 899 | 149 | 750 | 83% | 155 |
DEALS ON PADDLING GEAR AND ACCESSORIES
Check out other Current Sales Promotions
Click Here for our Sales Promotions