MIRAGE PASSPORT 12.0
Experience the power of the MirageDrive with Glide Technology & Kick-Up Fins.
---
The 12-foot Mirage® Passport® takes you where you want to go with ease and world-class authority with the revolutionary MirageDrive with Glide Technology and Kick-Up Fins. When you're not relaxing in the Passport's breathable mesh seat, a wider cockpit area with EVA floor padding provides a stable platform for standing and stretching your legs or casting a lure. There's plenty of real estate to stash equipment on the bow or stern cargo areas and more below deck access through the center 8" Twist-n-Seal hatch. Anglers will love our stealthy Bay Sand color and will be happy that the Passport 12 has a transducer cavity and scupper for simple install of your favorite fishfinder. All this on top of a Power-Pole® Micro bracket indent to mount your favorite shallow water anchor. Additional features include steering system with stowable rudder, two fishing rod holders, accessory tracks, and under seat and gunnel tackle storage.



---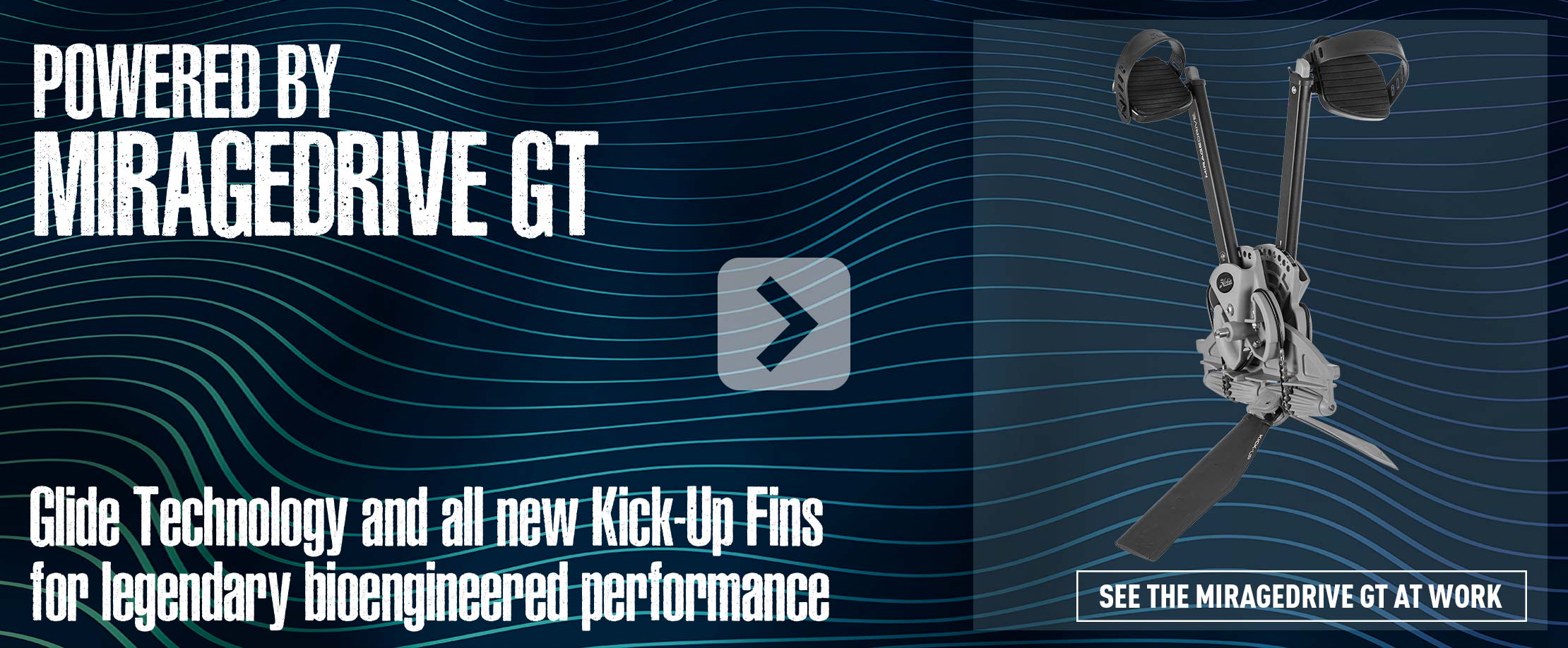 THE HOBIE DIFFERENCE:
KICK-UP FIN TECHNOLOGY
Our Patented Kick-Up Fins provide the power to charge through the water as never before. Logs, kelp, shallows, rocks, no problem.
WHAT IT TAKES TO BE #1
TWIST AND SEAL HATCH
The twist and seal is a unique mechanism that allows for one hand operation and it ensures that the hatch is sealed. The hinged lid keeps the hatch lid with the kayak at all times and the rubber gasket keeps the hatch dry.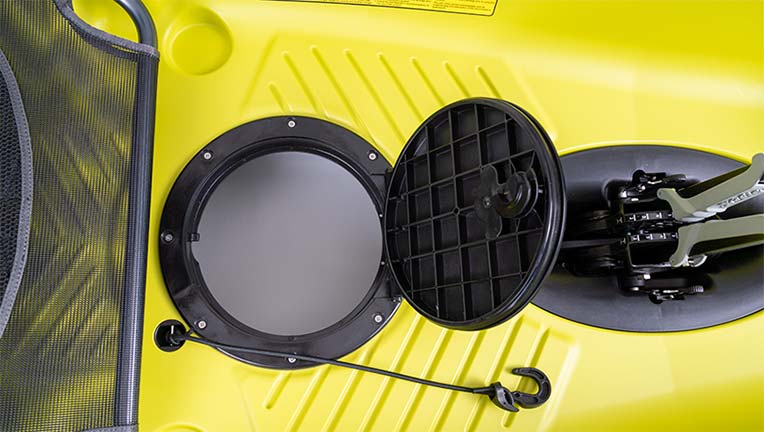 Excludes taxes, any shipping and set up fees.
Click into the tabs below for more information!
Shipping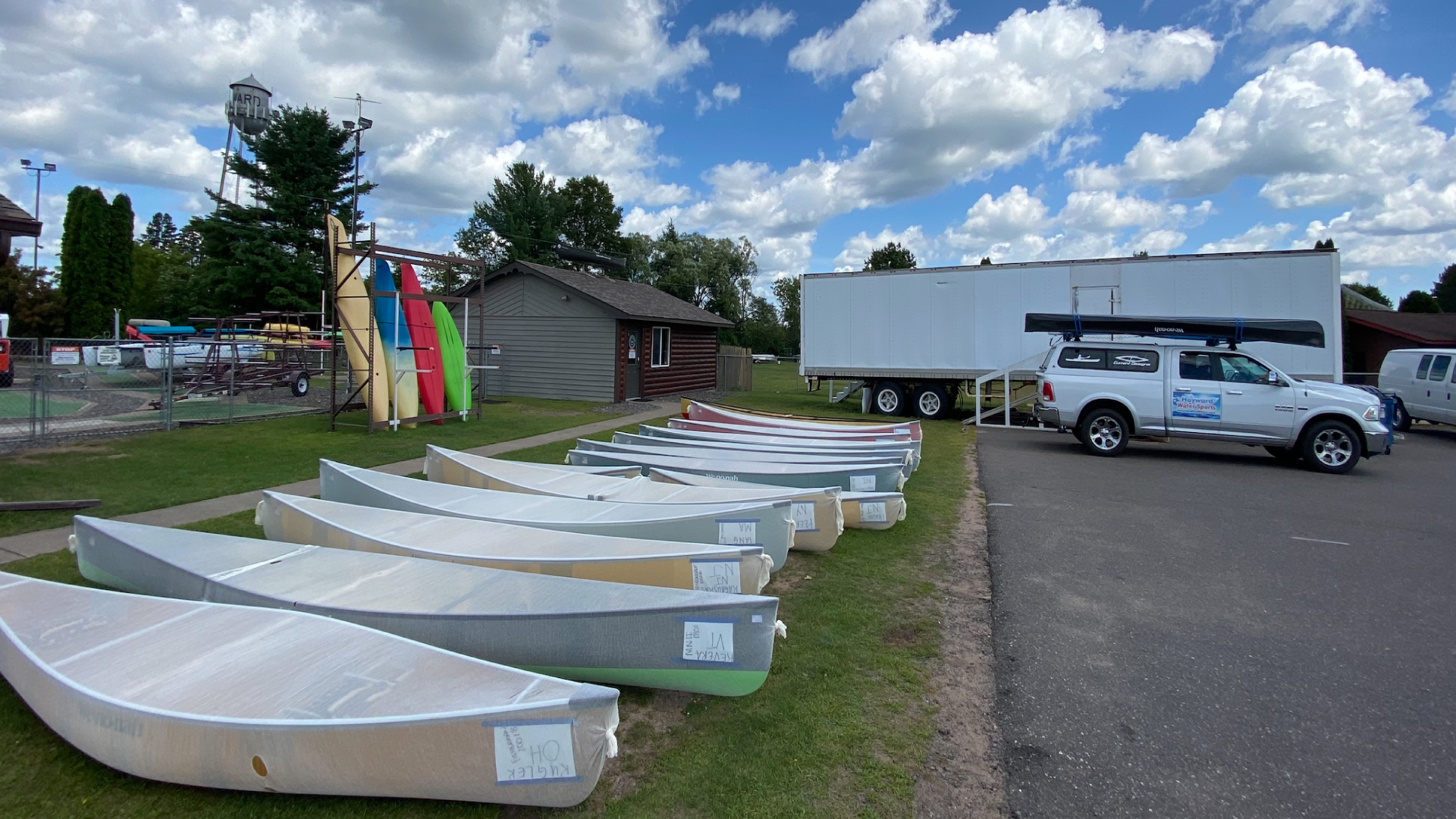 Terms - Read Before Visiting Us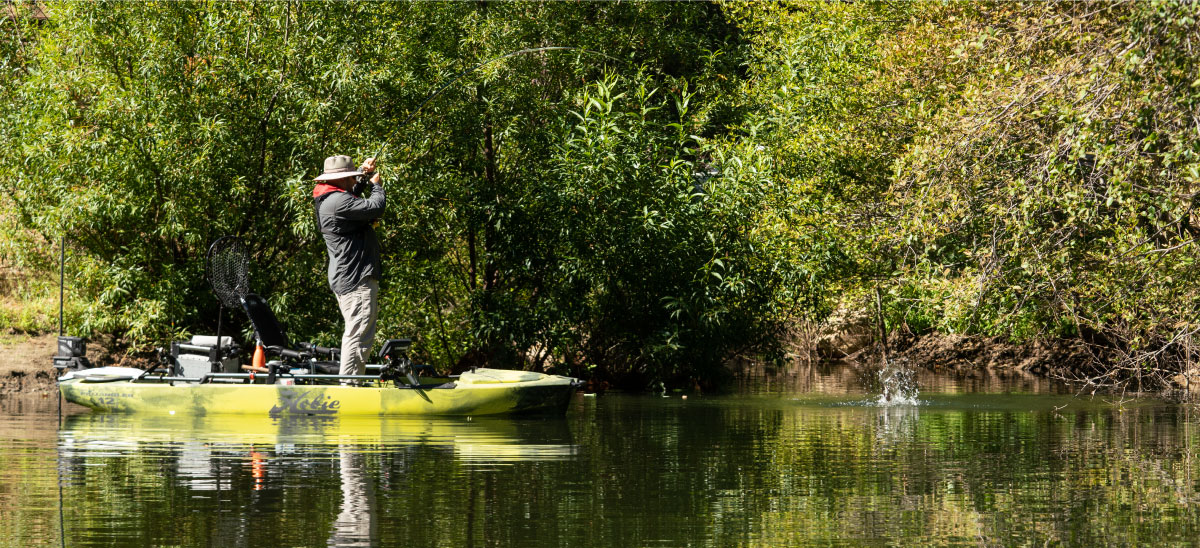 Learn How to Choose a Kayak
How to Choose A Kayak

Kayak Category
Shape
Type of Water
Stability
Fit
Recreational - Sit Inside
Short and Wide, 10'-14'
Small Lakes and Shallow Rivers
Good
Comfortable; sizeable
This is the most popular style in our area. Stable, maneuverable, user-friendly and have easy entry cockpits that fit almost anyone comfortably. Designed for first time paddlers and outdoor enthusiasts who like to combine their on-water pleasures with other pursuits such as bird watching, fishing and photography.
Recreational - Sit-On-Top
Short and Wide, 10'-13'
Smaller Lakes
Good
Comfortable; sizeable
Sit on tops are very stable, easy to get in and out of and there is no feeling of confinement. They're also self-bailing, which means they have small holes (called "scupper holes") that allow the water to drain right through them. You do drip water on your legs as you paddle. These are most popular in warm water climates.
Transitional
Narrower, 12'-14'
Bigger Lakes and Moving Water
3-4
Medium Size
Transitional Kayaks bridge the gap between Recreational and Touring categories, combining the best elements from both. Like Recreational designs, they are short and somewhat wide. They favor stability on calm waters and easy turning over speed. White the cockpits are a bit smaller than Recreational cockpits, they are still quite roomy for easy access.
Performance Touring
Long and Slender
All Water
2-3
Fully Connected
Performance Designs are good for all distances, expeditions and skill mastery.
North American Style
If you want a stable kayak with some serious capacity, a seat back and a rudder.
British Style
If you want a snug-fitting, playful kayak with smooth edging, graceful lines, a day hatch, a back band and a skeg.
Greenland Style
If you want a tight-fitting, hard-edging kayak with an old school look, serious rolling ability, a back band and a skeg.
Danish Style
Stylish, snug-fitting hybrid of Greenland and North American hulls with Danish style.
Specialty Kayaks
Boats made for unique situations and unique goals.

Learn about the different Kayak Layups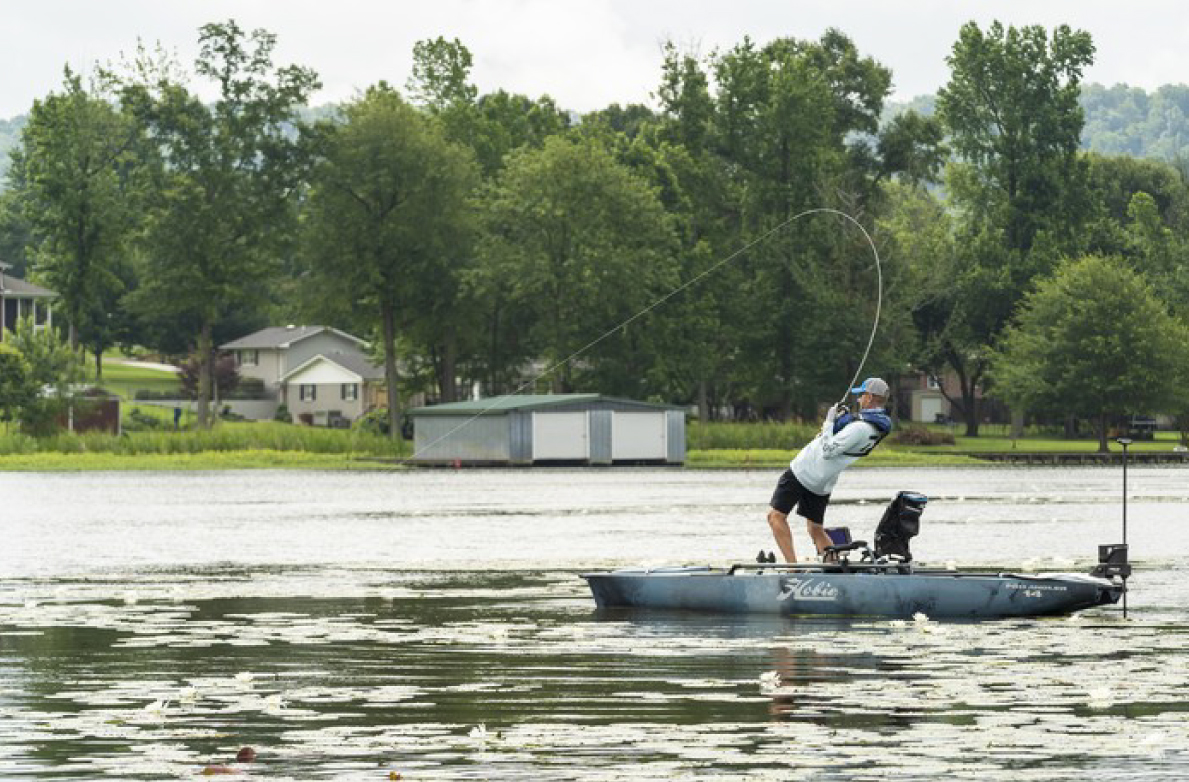 Learn More about Hobie
About Hobie


Impressive Collection of Watercraft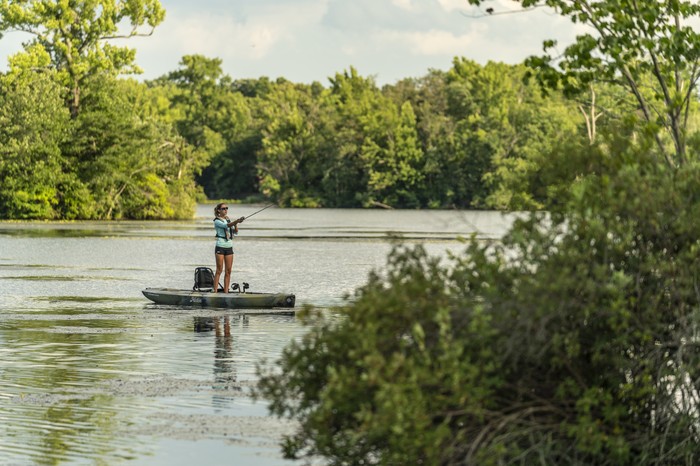 Check out our Clearance and Specials
| Item # | Description | Retail | Cash Price | Savings | Saving % | Any Card Price |
| --- | --- | --- | --- | --- | --- | --- |
| 283 | Current Designs Freedom - Demo | 3,499 | 2,250 | 1,249 | 36% | 2,374 |
| 2316 | Wilderness Systems Recon 120 HD - Scratch& Dent | $2,819 | $1,995 | $824 | 29% | 2,055 |
| 2448 | Bonafinde P127 Fishing Pedal Kayak - 2022 | 3,099 | 2,649 | 450 | 15% | 2,728 |
| Scroll Down for More Deals! | | | | | | |
| Item # | Description | Retail | Cash Price | Savings | Saving % | Any Card Price |
| --- | --- | --- | --- | --- | --- | --- |
| 425 | Bark Dominator 14' - Pro Elite Lay-Up | 2,399 | 1,349 | 1,050 | 44% | 1,423 |
| 2279 | Pau Hana Big EZ Angler | 1,399 | 1,099 | 300 | 21% | 1,159 |
| 2290 | C4 V1 Ocean Race with Bag - Awesome Board! - Used | 2,800 | 1,199 | 1,601 | 57% | 1,265 |
| 2289 | M&M 12.6 with Bag - Used - 21 lbs! Nothing Lighter! | 2,800 | 1,500 | 1,300 | 46% | 1,583 |
| 536 | NRS Earl 4 - Used Rental SUP + used paddle | 899 | 149 | 750 | 83% | 155 |
| 535 | NRS Earl 6 - Used Rental SUP + used paddle | 899 | 149 | 750 | 83% | 155 |
DEALS ON PADDLING GEAR AND ACCESSORIES
Check out other Current Sales Promotions