---
The legendary Pro Angler fishing kayak packs extreme fishing utility with six horizontal rod lockers, enough tackle compartments to empty a store, the Guardian Transducer shield for optimal fishfinder performance and the one and only, forward and reversing MirageDrive 180 with Kick-Up Turbo Fins. Experience long days on the water with our ultra comfortable, elevated, breathable and adjustable mesh Vantage Seating system, complete with lumbar support. Easily customize seat positioning with integrated barrel adjusters with the option to raise the seat an additional five inches for optimal Vantage position.
$4,449 USD MSRP ($4,699 for Camo)


---

THE ULTIMATE FISHING MACHINE


PRO ANGLER 14


SEE IT IN ACTION
THE HOBIE DIFFERENCE:
KICK-UP FIN TECHNOLOGY
Our Patented Kick-Up Fins provide the power to charge through the water as never before. Logs, kelp, shallows, rocks, no problem.
WHAT IT TAKES TO BE #1
PIVOTING TACKLE MANAGEMENT SYSTEM
A rectangular hatch just in front of the seat conceals a mesh storage pocket and pivoting storage for two medium-sized Flambeau™ tackle boxes (included). The storage area under the tackle boxes is also easily accessible.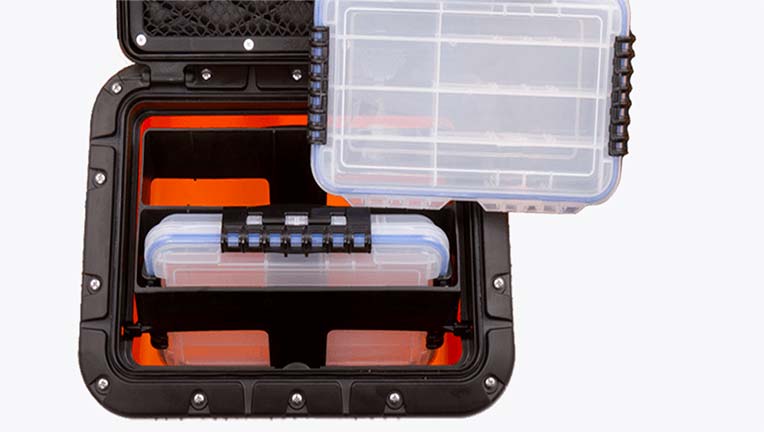 Click into the tabs below for more information!
Shipping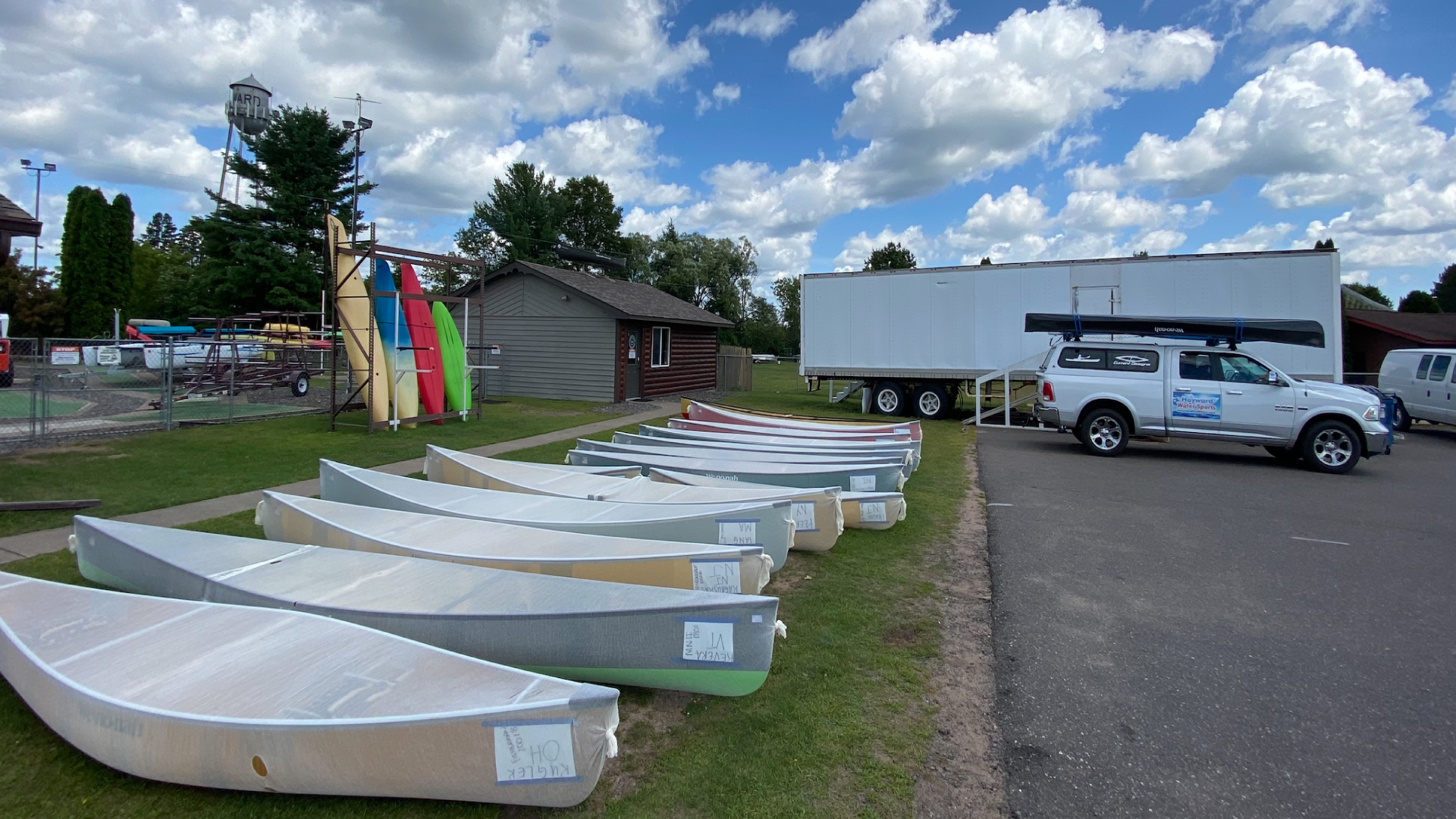 Terms - Read Before Visiting Us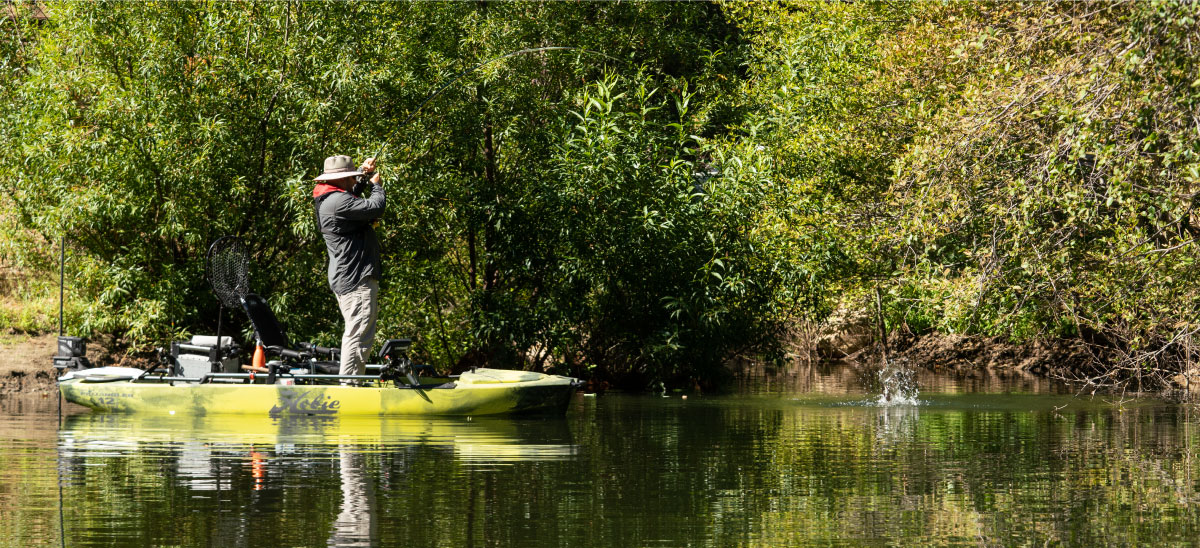 Learn How to Choose a Fishing Kayak
| | |
| --- | --- |
| How to Choose a Fishing Kayak | |
| Paddle or Pedal | |
| Paddle | Pedal |
| A paddle can be quieter and move less water when approaching fish. | Get to fishing spot faster and with less effort. |
| Fish in potentially shallower waters. | Free up hands for fishing. |
| Ability to subtly reposition kayak. | Power of leg muscles to pedal and fish for longer periods of time. |
| Sit-On-top or Sit-Inside | |
| Sit-On-top | Sit Inside |
| Greater range of motion. | Stay drier inside the cockpit. |
| Generally offer more accessorization of gear. | Generally lighter-weight than sit-on-top kayaks. |

Learn about the different Kayak Layups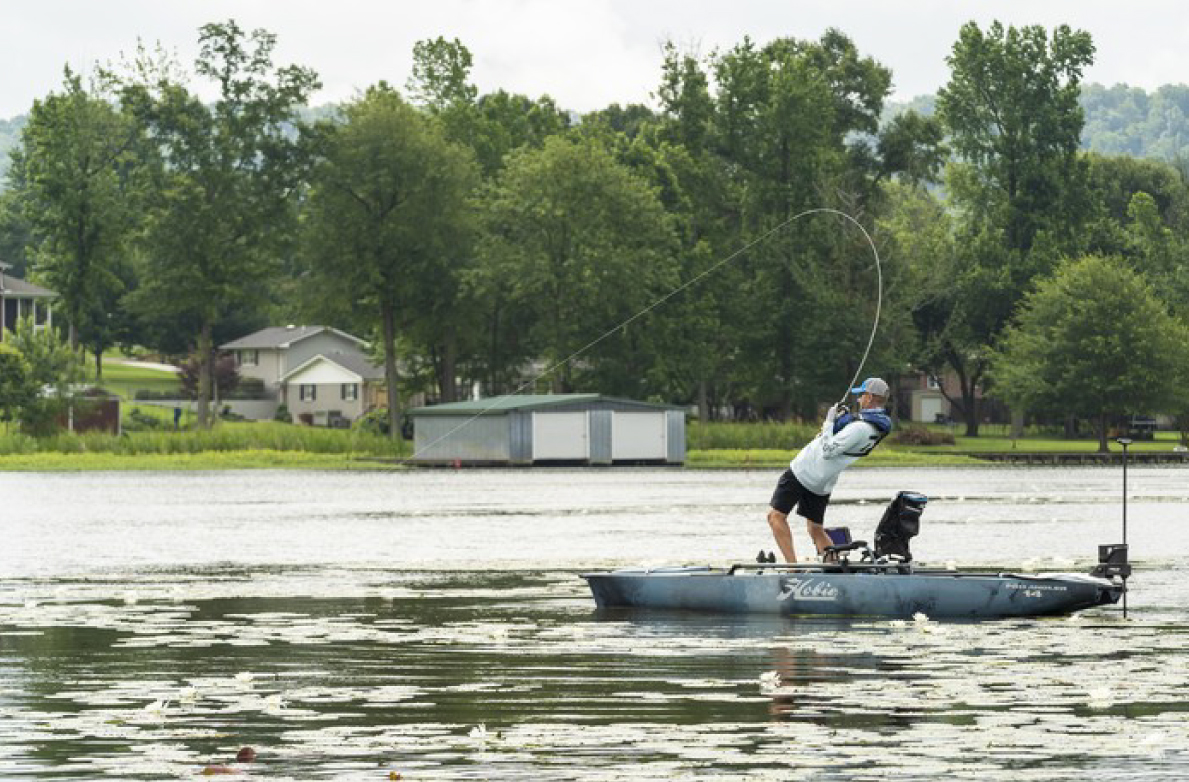 Learn More about Hobie
About Hobie


Impressive Collection of Watercraft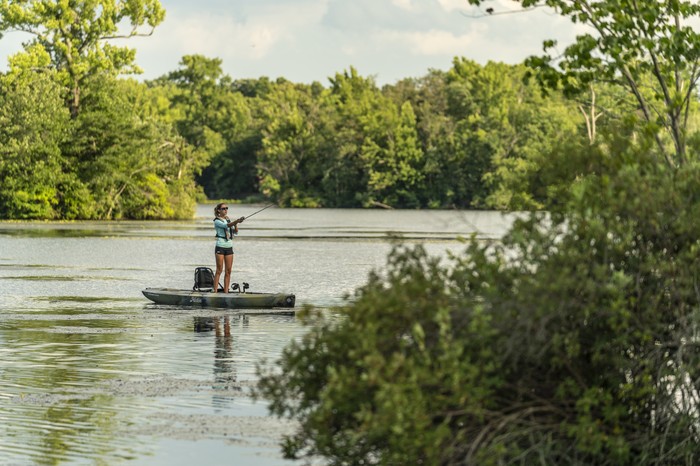 Videos
US Coast Guard Lifejacket Regulations
Check out our Clearance and Specials
| Item # | Description | Retail | Cash Price | Savings | Saving % | Any Card Price |
| --- | --- | --- | --- | --- | --- | --- |
| 283 | Current Designs Freedom - Demo | 3,499 | 2,250 | 1,249 | 36% | 2,374 |
| 2316 | Wilderness Systems Recon 120 HD - Scratch& Dent | $2,819 | $1,995 | $824 | 29% | 2,055 |
| 2448 | Bonafinde P127 Fishing Pedal Kayak - 2022 | 3,099 | 2,649 | 450 | 15% | 2,728 |
| Scroll Down for More Deals! | | | | | | |
| Item # | Description | Retail | Cash Price | Savings | Saving % | Any Card Price |
| --- | --- | --- | --- | --- | --- | --- |
| 425 | Bark Dominator 14' - Pro Elite Lay-Up | 2,399 | 1,349 | 1,050 | 44% | 1,423 |
| 2279 | Pau Hana Big EZ Angler | 1,399 | 1,099 | 300 | 21% | 1,159 |
| 2290 | C4 V1 Ocean Race with Bag - Awesome Board! - Used | 2,800 | 1,199 | 1,601 | 57% | 1,265 |
| 2289 | M&M 12.6 with Bag - Used - 21 lbs! Nothing Lighter! | 2,800 | 1,500 | 1,300 | 46% | 1,583 |
| 536 | NRS Earl 4 - Used Rental SUP + used paddle | 899 | 149 | 750 | 83% | 155 |
| 535 | NRS Earl 6 - Used Rental SUP + used paddle | 899 | 149 | 750 | 83% | 155 |
DEALS ON PADDLING GEAR AND ACCESSORIES
Check out other Current Sales Promotions