Adjustable Aluminum Steps
Connect to the front of your dock to manage rough terrain. Available with 3 to 10 steps.
24″ Aqua Steps
This is the easiest and safest way in or out of the water for children and adults. Steps include handrails, adjustable posts and are available with 3, 4 or 5 steps.
18″ Wide Ladder
Our unique ladder design with a 15 degree offset for ease of use, will fasten to either frame. Attach the ladder wherever you like, without using up any valuable deck space. Available with 3, 4 or 5 steps.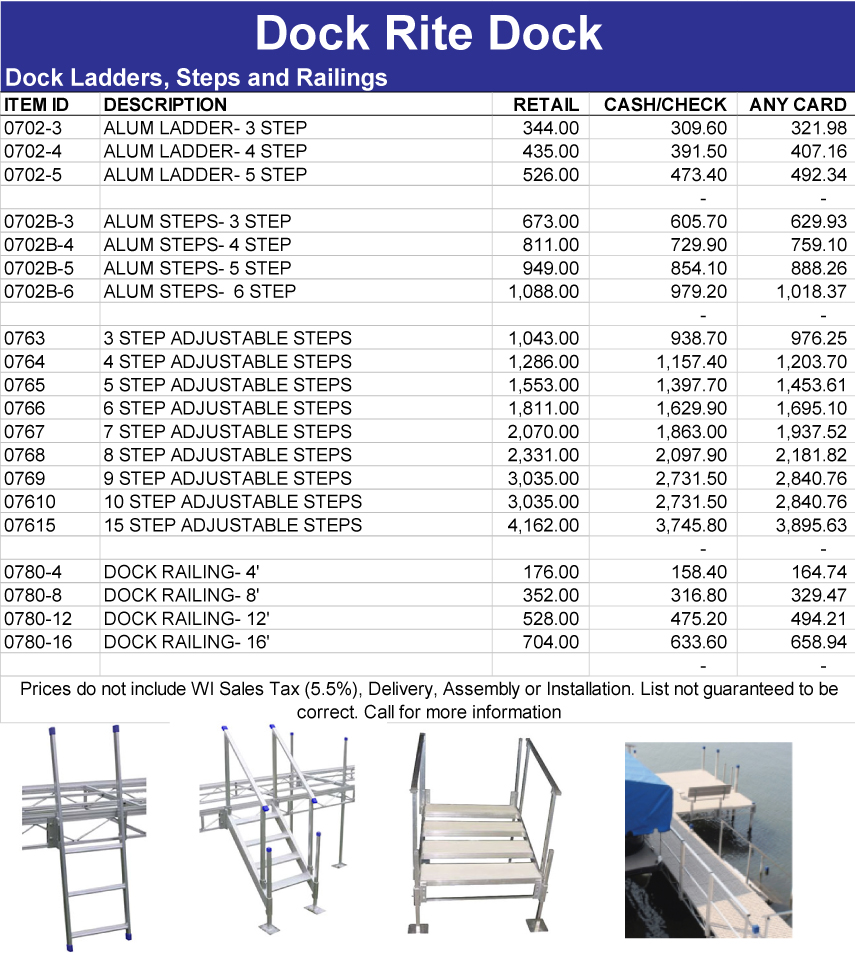 Click into the tabs below for more information!
Terms - Read Before Visiting Us
Come in and Check it Out - Schedule a Visit
US Coast Guard Lifejacket Regulations
Check out our Clearance and Specials
| Item # | Description | Retail | Cash Price | Savings | Saving % | Any Card Price |
| --- | --- | --- | --- | --- | --- | --- |
| 425 | Bark Dominator 14' - Pro Elite Lay-Up | 2,399 | 1,349 | 1,050 | 44% | 1,423 |
| 2279 | Pau Hana Big EZ Angler | 1,399 | 1,099 | 300 | 21% | 1,159 |
| 2289 | M&M 12.6 with Bag - Used - 21 lbs! Nothing Lighter! | 2,800 | 1,500 | 1,300 | 46% | 1,583 |
| 536 | NRS Earl 4 - Used Rental SUP + used paddle | 899 | 149 | 750 | 83% | 155 |
| 535 | NRS Earl 6 - Used Rental SUP + used paddle | 899 | 149 | 750 | 83% | 155 |
DEALS ON PADDLING GEAR AND ACCESSORIES
Check out other Current Sales Promotions